Ron Cutsinger for Sarasota County Commission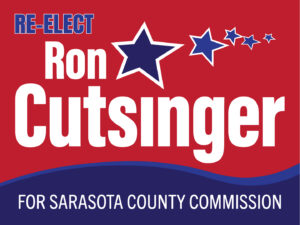 For nearly four years, Ron Cutsinger has been fighting for South County on the Sarasota County Commission – although his service to South County has really been going on for decades.
Elected in 2020, Cutsinger is a strong voice for our community and has a track record of delivering results for South County residents.
While many politicians are content to say anything to get elected, Ron Cutsinger is different. He says what he means and does what he says. The proof is in his record of accomplishments while in office.
Ron campaigned as a champion for conservative values, with a heart for South County. He took office during a push to raise taxes and led the charge to kill the tax hike. When Hurricane Ian devastated our community, Ron worked tirelessly to coordinate relief efforts and help build back stronger. When government agencies were dragging their feet to clear debris from impacted neighborhoods, Ron rolled up his sleeves and broke through the logjam. Just as important, Ron Cutsinger has been a champion for our first responders. He's committed record funding for local law enforcement and opened state-of-the-art training facilities for our fire rescue services.
Ron Cutsinger and his wife Alison have lived in South Sarasota County for more than 50 years. They raised their family here, built their business here, and entertain their seven grandchildren here. They know what makes Sarasota so special and are determined to preserve it so their grandkids can chase the American dream with more opportunity than they had.
Prior to serving on the County Commission, Ron had a long record of service in the community. Ron served as an elder of his church for nearly 30 years. He is the founder and former Chairman of the Board of the Suncoast Christian School. He also served on the Sarasota County Library Advisory Board, the Affordable Housing Advisory Committee, the Legacy Trail expansion campaign, and the Sarasota County Planning Commission.
Like many in South Sarasota County, Ron Cutsinger is a Floridian not by birth, but by deliberate choice. Ron and Alison moved to Venice in 1973 and established roots in Englewood shortly thereafter, and he intends to ensure the high quality of life that is so attractive in South County will continue for generations.
Paid by Ron Cutsinger, Republican, for Sarasota County Commission, District 5.